Freshman students in the fall of 1983 displayed a "Dartmouth Indians" banner at a football game
Item
Title
Freshman students in the fall of 1983 displayed a "Dartmouth Indians" banner at a football game
Description
The article describes and shows the event when Dartmouth students displayed a banner with the Indian symbol at a football game.
Creator
Adam Seessel & Natalie O. Sokil
Date Created
24 October 1983 & 28 October 1983
Publisher
Rauner Special Collections Library
Bibliographic Citation
Sokil, Natalie O. "Freshmen Unfurl Indian Banner at Game." The Dartmouth. October 24, 1983.
Seessel, Adam. "Banner Display Not Entirely Freshmen Act." The Dartmouth. October 28, 1983.
Item sets
Media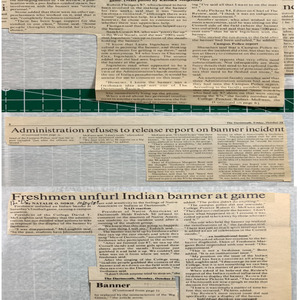 Banner image.png