Shawmut Bank Debates, 1994
Item
Title
Shawmut Bank Debates, 1994
Description
Several newspaper articles from New England described Shawmut Bank's deliberations over whether to open a Hanover branch.
Date Created
4 July 1994 & 6 July 1994
Publisher
Rauner Special Collections Library
Bibliographic Citation
Isa, Margaret. "Shawmut Is Holding off on N.H. Bank Indian Logo." Boston Globe, July 6, 1994.
"Shawmut Ponders Use of Logo in Hanover." Valley News. July 4, 1994.
"Bank Afraid Logo Will Offend in N.H." Boston Globe, July 4, 1994.
Item sets
Media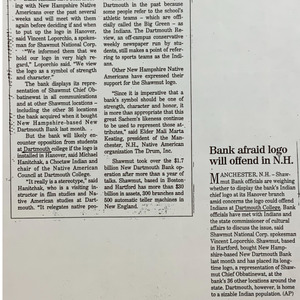 Real shawmut.png